Product Description
LOAD RESISTOR - 12V Twin Pack -
To assist with the Indicator Function
LED Dummy Load Resistors simulate a 21W globe in the circuit to rectify globe out messages & flash rate when using LED lights.
More and more customers are experiencing sporadic warning messages in vehicles when fitting LED lamps due to the reduced current draw of LED's. A simple solution is to fit a LED Dummy Load Resistor in the circuit to simulate a 21W globe. Aluminium housed wire wound resistors feature stable performance due to their ability to dissipate heat radiation effectively. When mounted to a chassis or metal surface, the heat sink effect is utilised to ensure optimum performance and reliability. Complete environmental protection is achieved using a completely welded construction.
Simulate a 21 Watt globe in the circuit

Can be used on vehicles with electronic components that are not LED compatible

Rectifies globe out warning messages by simulating globe load in the circuit

Rectifies flash rate when using LED indicator lamps

Rated at 12V or 24V 50 Watt

12V 6 Ohm or 24V 24 Ohm

Easy 2 wire installation

Simply connect between positive and negative feed to LED lamp

Aluminium housed wire wound resistor for optimum performance and stability
| | |
| --- | --- |
| | BR122 |
| Input Voltage | 12 Volt DC |
| Current Capacity Watts | 50 Watt |
| Resistance Ohms | 6 |
| Simulated Globe Wattage | 21 Watt |
| Housing Construction | Aluminium |
| Resistor Type | Wire Wound |
| Dimensions | 52 x 30 x 16mm |
| Mounting Hole Centres | 45mm |
| Cable Length | 150mm Pre Wired |
Fitting Instructions:
Must be mounted on metal surface, the resistor can reach temperatures of up to 170 Celsius. You may require up to 1 resistor per function on each side. The resistor should always be wired between the input wires of the lamp, Not the chassis of the vehicle or trailer! If fitted to the chassis, a bad earth connection is possible and can result in problems with the lighting system of the vehicle.
Technical Drawings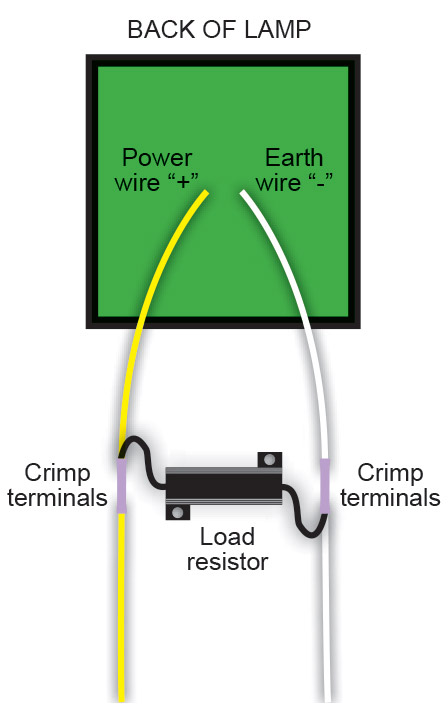 Product Videos
Custom Field
Product Reviews